Guest Blog Post: So, What Exactly Does PESO Stand For?
Date posted
August 11, 2023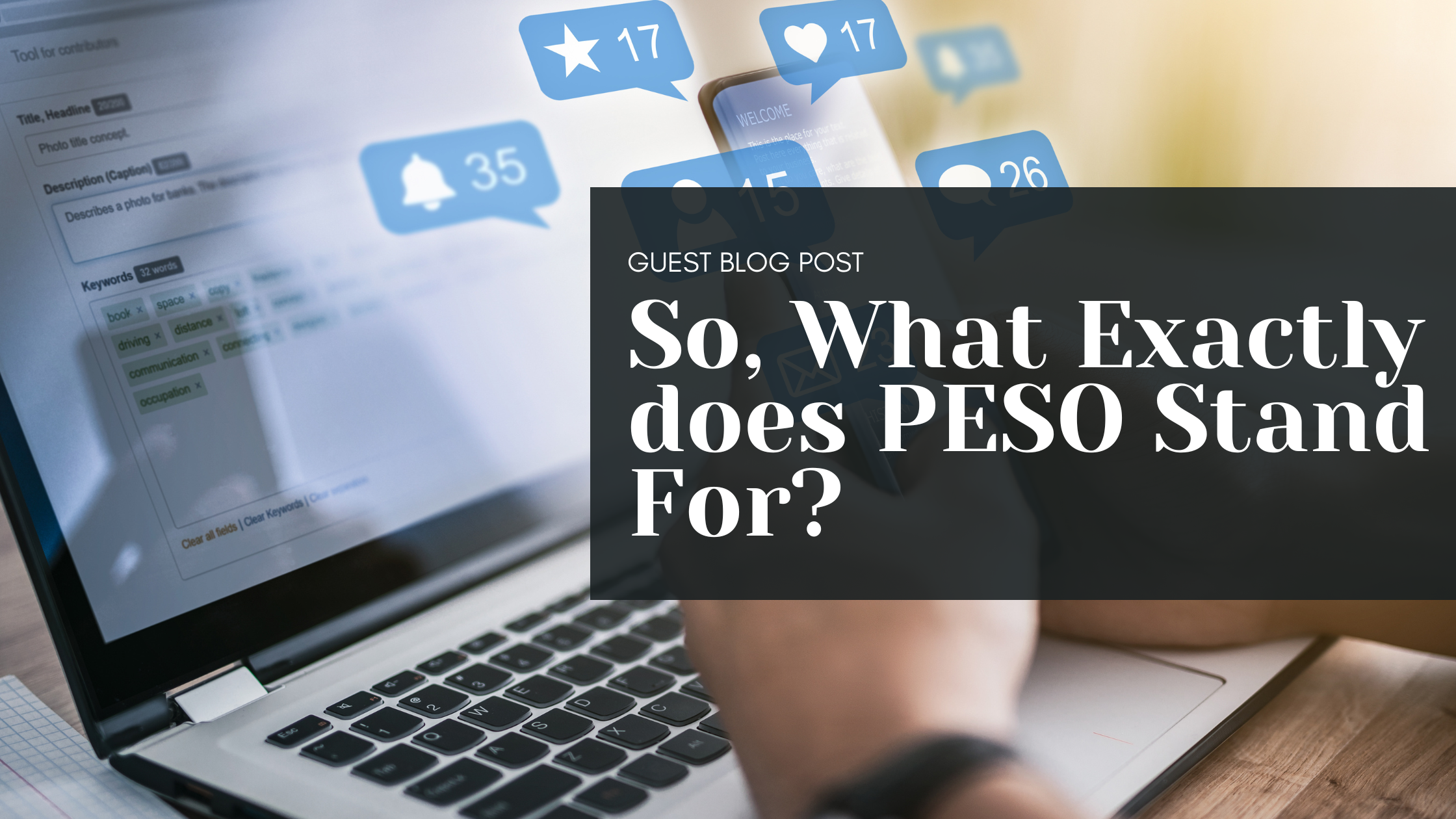 We get it.
It's overwhelming to think about all the marketing lingo acronyms you're already trying to keep up with.
Like the PPC SEM campaign you're running, which is aligned to the SEO work — two entirely different things. You wake up with night sweats wondering if your CTA is strong enough or if your CPL is low enough. Not to mention, you want to know what your ROI is, but you haven't even really had a minute to think about your KPIs, which you know should include a high CTR.
While we hesitate to throw yet another acronym at you, we will because we think it's worth it.
In fact, when it comes to building an integrated marketing strategy for your business, no matter its size, we think it might be the most important one for you to know (and it's making the rounds in the marketing world).
PESO.
PESO stands for "paid, earned, shared, and owned" media.
At times, it can be difficult to determine the best way to convey a story or idea to your audience. It's best to rely on multiple forms of media, also known as channels, to optimize your content in all realms. Integrated marketing uses an omnichannel philosophy referred to as the PESO model.
Whether it be through display ads, news interviews, social media platforms, or blogs, communicating to customers through various channels creates impact.
Paid Media
Paid media refers to advertising, which includes billboards, radio and newspaper ads, bus and airport signs as well as sponsored content on social media platforms. The ads that appear on your Facebook and Twitter feeds are examples of paid social media. Social media advertising is expected to reach $268 billion in 2024, with $79 billion of that anticipated to be social video advertising, according to Statista.
Earned Media
Earned media refers to publicity gained through promotional efforts other than advertising or branding. It's important to build relationships with the media (aka the press). Get to know the reporters who cover your industry and pitch them story ideas relevant to their readers. Think beyond mainstream media. Look to social influencers and podcasts and request feedback on social media to generate more online reviews. Remember word-of-mouth resonates so consider referral incentives.
Compile an easily accessible list of your company's spokespeople who can provide quotes and are prepared for interviews on several topics. Pitch them as industry experts when relevant topics in the news arise. Your expert commenting on an emerging trend magnifies your company name. Use Google Alerts or media monitoring software to track when your company or industry is mentioned in the news. Share those mentions on your social channels and tag when appropriate.
Pitch, pitch, pitch! It never hurts to suggest good stories that relate to your company. Don't be afraid to follow up a pitch with a phone call to a reporter but abstain from acting as a nuisance. If a certain reporter covers your industry, develop a professional relationship with that reporter. Suggest a time to meet over coffee or at the very least, make sure you follow the reporter on social media. Make pitching to trade publications a part of your process.
Consider influencer marketing, which connects brands to a credible individual within a niche community who has a sizable follower count. Think of influencer marketing this way. While scrolling through TikTok, you see your favorite thought leader or mentor recommending a high-tech kitchen appliance. Now you want to purchase that product. That's influencer marketing, but it typically comes at a price. Generally, the more followers the influencer has, the more expensive it will be. Make sure you also look at level of engagement of your influencer when considering your Return on Investment.
Shared Media
Customers and followers sharing your content on social media is shared media. You have no control over shared media, one reason why it's often considered the most authentic. Ideally you want users of your product to share positive things about it on social media. This type of marketing relies heavily on customer engagement and interactions.
Start by creating goals for the different types of shared media you use. Create a content strategy or a social narrative to help you develop material that aligns with your brand identity, resonates with your target audience, and drives business results.
Consistency rules! Keep your social media channels fresh with a cohesive look and feel. Remember to consider background images, your profile photo and LinkedIn banner. Make sure your content looks like it all belongs under the umbrella of your brand.
People enjoy sharing images, infographics, GIFs, and videos, so make your content easily sharable across all platforms. Create posts on your social platforms with the intent of drawing viewers' attention to them to repost. Respond to questions, comments, and messages promptly.
Owned Media
Owned media is any property owned and controlled by a brand. A blog, an app, an eBook, a webinar and yes, your company website, are all examples of owned media. Content drives owned media. Think about an enticing infographic, an engaging podcast created by your favorite host, and an informative YouTube video. Don't forget to use performance metrics to measure how well your media strategy is working.
As business owners and operators, understanding and using the PESO model can enhance your marketing skills while expanding your reach. It takes all four of the letters to form the word PESO, a reminder that your marketing strategy should embrace all the components to retain connections you have and build new ones.
Content from this blog post was based on a presentation by Stephanie Heinatz of Consociate Media on "Integrated Marketing for Organizations of All Sizes: Understanding the PESO Model."