Retail Alliance Launches 1st Virginia Retail Matters, A State of Retail, Event
Date posted
September 7, 2023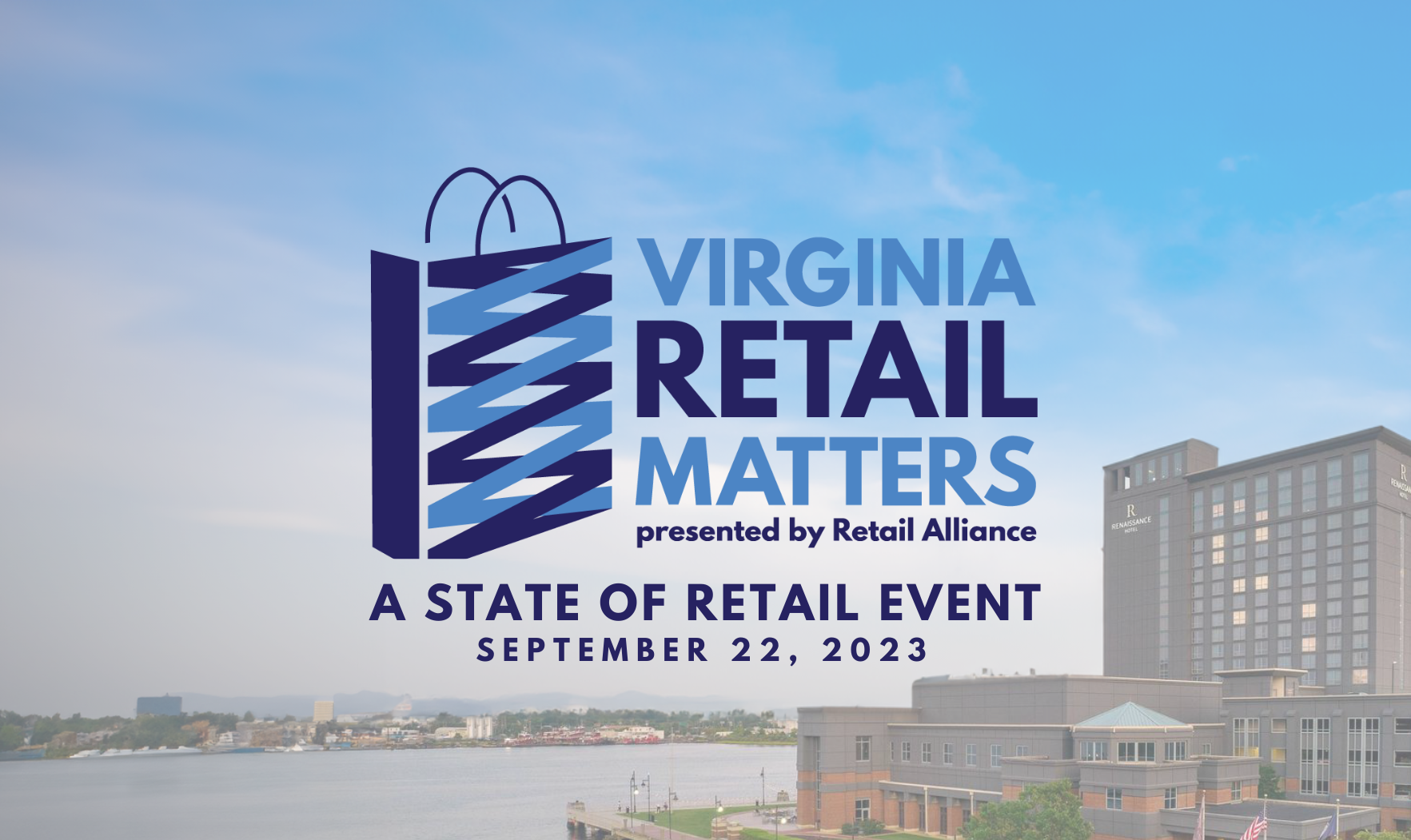 Norfolk, VA: August 14, 2022 – Retail Alliance will hold its first Virginia Retail Matters, a State of Retail event at the Renaissance Portsmouth-Norfolk Hotel on September 22, 2023. To be held on the last date of Virginia Economic Development Association's (VEDA) Fall Conference, Virginia Retail Matters will provide an in-depth look at the findings of a retail study commissioned by Retail Alliance and conducted in conjunction with Main Street America.
This major retail study analyzed current sales statistics and retail trends, blending them with national and state findings from their Main Street America Small Business Survey of micro and small brick-and-mortar retailers across the U.S, to provide an in-depth look at the State of Retail in the U.S. and Virginia.
"Retail is a rapidly changing industry and it never changed more than it did during and post COVID. Some claim retail is dead but even during the peak of the pandemic in 2020, retail sales accounted for over $66 billion in Virginia Sales Tax Revenue. I'd argue it is quite alive," said Jenny Crittenden, President/CEO at Retail Alliance. "The report will also be identifying challenges and opportunities for the retail industry, and we'll hear from our Virginia Retail Federation lobbyists on the State legislation to follow that may impact the retail sector into 2024."
"This event is the first of its kind in Virginia and if you are a retailer, do business with one, or serve in a resource or support role in the retail sector, you will find the study valuable and insightful." Crittenden continued. "We highly encourage all retailers (no matter the size), financial institutions, commercial real estate firms, economic development, Chambers of Commerce, trade associations, and Main Street programs, along with Local and State government, to attend."
Industry expert Matt Wagner, Chief Program Officer at Main Street America, and experienced lobbyist Jodi Roth, Government Affairs at Virginia Retail Federation, will be presenting at the event.
Matthew Wagner, Ph.D. serves as Chief Program Officer at the National Main Street Center, Inc. In this role, he is responsible for driving the Center's field service initiatives including the development and delivery of technical services for Main Street America and Urban Main programs, directing the Center's new research agenda, as well as business development as part of growing new revenue streams for the organization.
"The State of Virginia Retail report highlights this sector's important contribution to Virginia's overall economy, making up 12.5 percent of the state's overall businesses," commented Matthew Wagner. "As such it's critical to better understand the challenges and trends lines as retail and consumerism new norms evolve. And while numbers are important, the Retail Alliance study underscores the role retail businesses play in support of local economies and Main Streets across Virginia, often serving as the economic foundation for our communities, providing residents and tourists alike with a unique and quality of life driven experience that make these places special."
Jodi Roth, Government Affairs at Virginia Retail Federation, has over 15 years' experience in government affairs in the Commonwealth of Virginia as well as on the federal level. Jodi has represented a wide array of clients in front of the General Assembly and the Executive Branch during her career, including spending the last several years specifically on retail issues. During that time, Jodi worked to bridge a coalition of retail representatives throughout the state to ensure a unified voice on behalf of Virginia's retail industry.
"We are grateful to TowneBank who, as a long-term supporter of Retail Alliance and retailers in general, has joined us as Presenting Sponsor. We appreciate that they recognize the important role that retailers play in our local, regional, and state economies," Crittenden remarked.
"We are committed to providing exquisite service to all of our members, including the many retailers who look to TowneBank as their financial services partner," says Robin Cooke, President of Retail Banking at TowneBank. "TowneBank is excited to be part of the team making the Virginia Retail Matters conference happen. This event will provide critical research and information on the Virginia retailer sector."
Individual tickets and table sponsorships can be bought through retailalliance.com/events. Sponsorships are also available and welcomed. All attendees will receive the full report findings in hard copy at the luncheon as well as digitally after the event.
# # #
ABOUT RETAIL ALLIANCE
At Retail Alliance, we unite with retailpreneurs for a thriving retail community through professional development, collaboration, innovation, a collective voice, and shared values, shaping the future of retail together. We are celebrating our 120th anniversary in 2023. Retail Alliance champions for the retail industry and serves as the primary non-profit retail trade association in Hampton Roads. www.retailalliance.com