Guest Blog Post: Amplify Your Voice by Applying to a State Board or Commission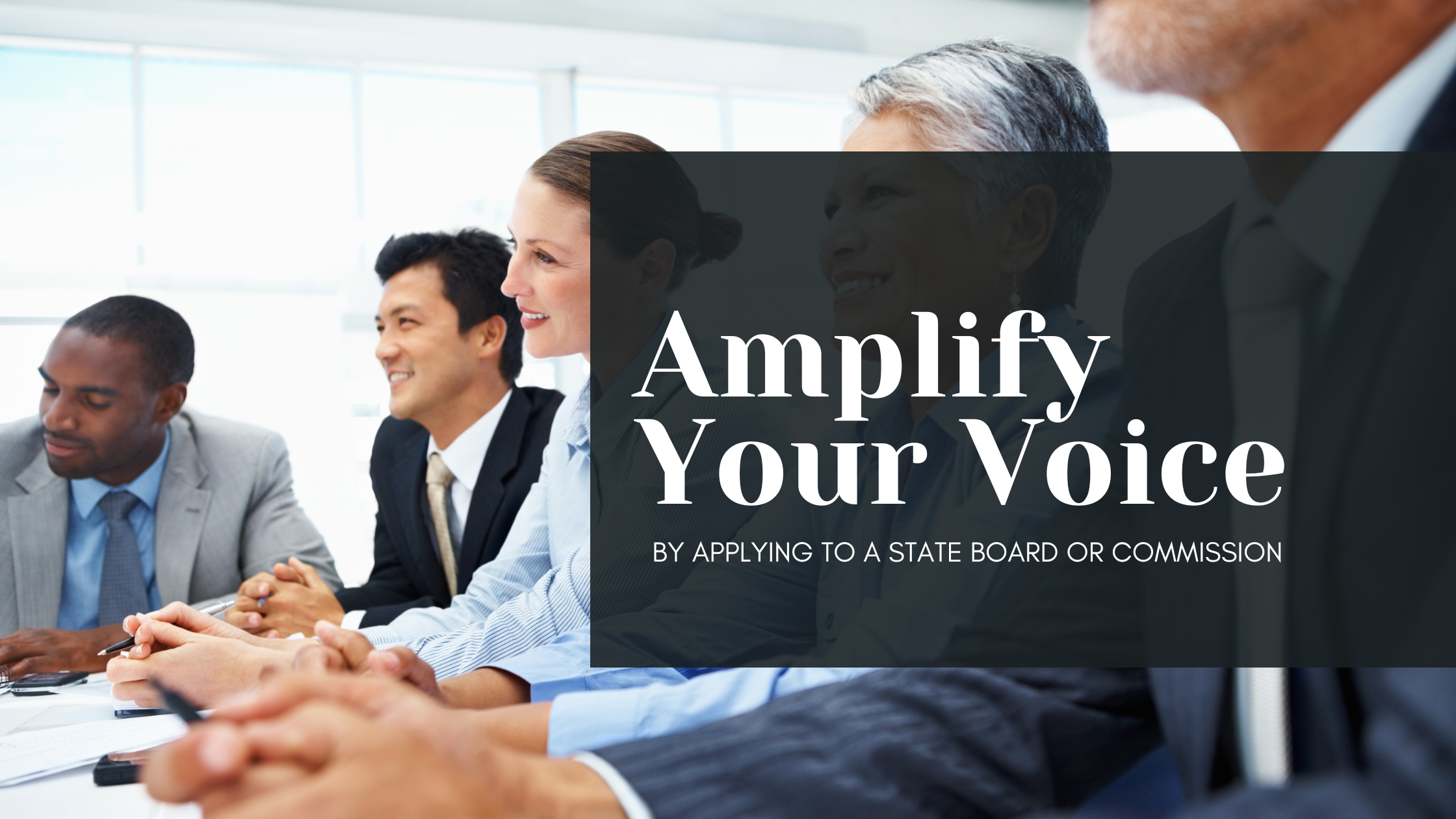 Written by Stephanie Heinatz
As small business owners, we're told our voice matters. Sometimes it's hard to find how to be heard through all the noise. While keeping on top of the day-to-day challenges that come with running your own small business can be consuming, it's important to find ways to amplify your voice so that it makes a difference in your community.
In OUR community.
I know I'm not alone in this thinking and wanted to share some inspiration I gained from listening to Kay Cole James, Secretary of the Commonwealth, who introduced Gov. Youngkin at a spring reception I was honored to attend during Women's History Month.
She encouraged the audience that reflected a number of diverse sectors in business to make a difference by serving on a state board.
Your service impacts policies, regulatory bodies and lives. You expand your network and cultivate new skills. Gubernatorial appointments are an ongoing process with approximately 900 being made throughout the year.
It's not for everyone. In addition to the time commitment, all activities of boards and commissions receive public and press scrutiny. If you are selected by the governor to serve, you will be required to complete a financial disclosure statement. It's important to familiarize yourself with the Code of Conduct, which, among other things, prohibits voting on matters that have a potential conflict of interest. And yes, these are volunteer positions, although in some cases you can receive per diems.
Speaking personally, I found it rewarding to serve on the GO Virginia Region 6 Board, a reminder to me that every voice matters. The experience I brought to that board was as a rural business owner in an industry best known for working out of urban centers. I never thought that experience would be useful from a strategy and advocacy standpoint, yet it was. While ample support is available for startups and big businesses, there was definitely a gap for businesses like my own that are 10-15 years old. Sharing, learning and collaborating with stakeholders were invaluable to me.
Where to start? Step 1 is to research boards and commissions of interest. Right now, more than 300 boards and commissions in Virginia have vacancies. Depending on your business type and passion, Retail Alliance members might consider:
Members might also consider applying to be on the board of visitors for their alma mater — Christopher Newport University, Eastern Virginia Medical School, George Mason University, James Madison University, Longwood University, Old Dominion University, Norfolk State University, Radford University, Mary Washington University, University of Virginia, Virginia Commonwealth University, Virginia Military Institute, Virginia Tech, Virginia State University and William and Mary all have openings as does the board for Virginia's Community Colleges
Many of the boards and commissions are hyper specific — Sheep Industry Board, Acupuncture Advisory Board and the Henrietta Lack Commission among them. Find what speaks to you.
You can apply for more than one and rank your preference. Be sure to select the seat on the board for which you qualify. You will be asked to upload a resume and provide the username for any social media pages you manage. The application asks you to explain why you want to serve on a board or commission and to summarize your experience, education and achievements. You'll need to list three references. Additional questions relate to past controversies that would be uncovered during a public review, your credit history, legal proceedings in your background and whether you've submitted oral or written views to any government authority.
From there, submit your application, and if selected, you will be contacted by the Office of the Secretary of the Commonwealth. After you take an oath, you will begin your service.
I have no doubt you can find your fit and why not apply? Learn more about how you can influence public policy and call attention to issues that you care about. You'll not only gain access to policymakers. You will serve as a role model in both your industry and your community.
Stephanie Heinatz is the Founder and Managing Partner of Consociate Media, a public relations and marketing firm that works with a diverse group of industries, including retail and hospitality.