Retailpreneur Series - Navigating & Leveraging Trends
3-part series
---
Category: Retailpreneur Series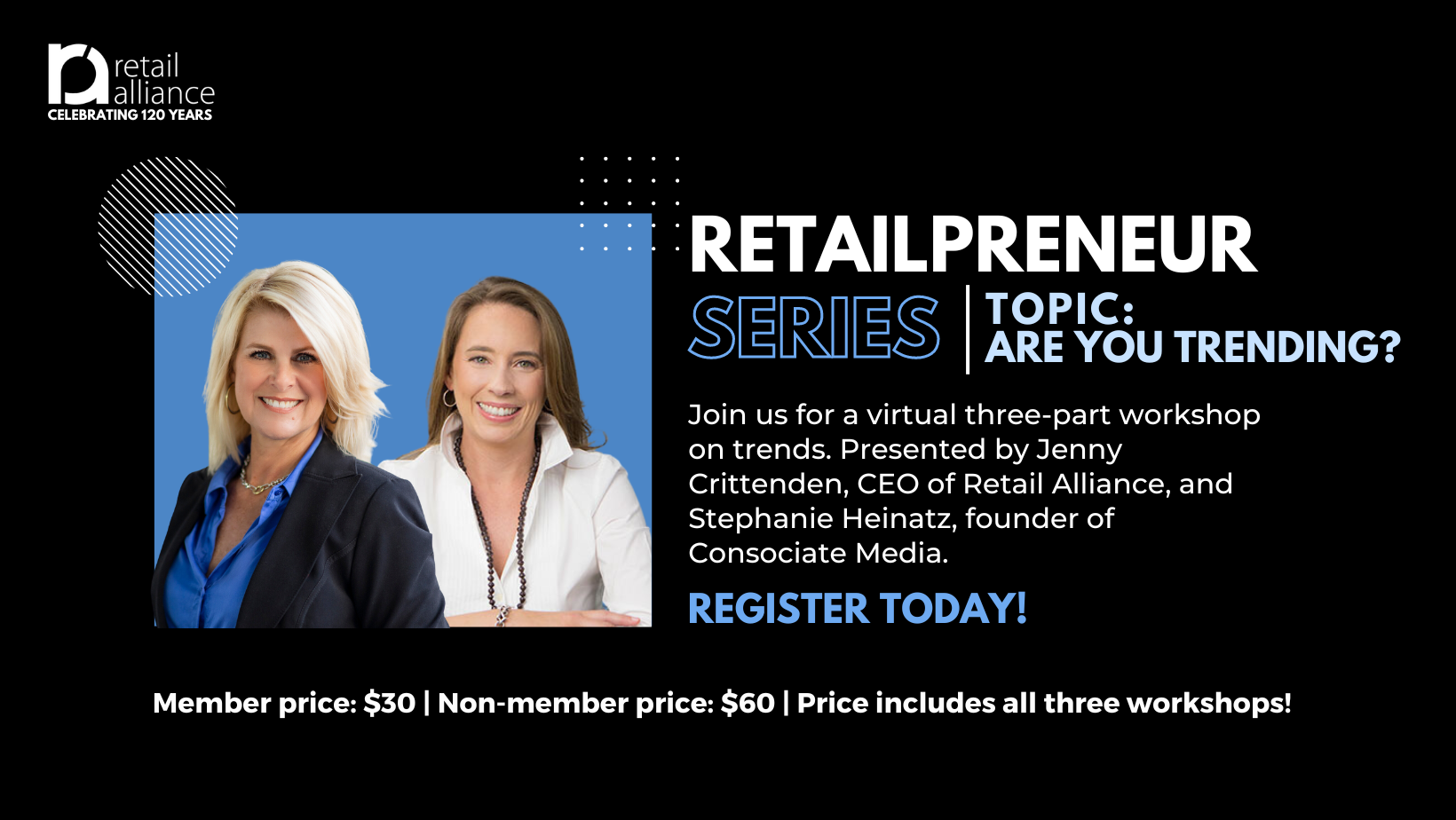 Education | Virtual | Workshop
Join the Retail Alliance CEO, Jenny Crittenden along with Stephanie Heinatz, founder of Consociate Media for our three-part workshop on Retail Trends. Attendees will dive into consumer trends post COVID. A new consumer has emerged (2 years' worth of change did this!). Learn what Top 5 Retail Trends we believe you need to be aware of as a brick-and-mortar retailer. From Content Marketing Trends to social selling, be sure you are on point with the latest marketing and social media trends.
Our speakers: Jenny is our fearless leader here at Retail Alliance with vast experience implementing programs to help small businesses grow. For the last three years, she has served Retail Alliance as a subject matter expert teaching Marketing and Customer Service module for the Retail Alliance Foundation's Certificate in Retail Operations class. Stephanie specializes in working with business owners to tell their stories across a wide range of new and traditional media. Through a blend of marketing, media and management techniques, Consociate uses the rich traditions of storytelling and modern communications to help businesses grow.
You do not want to miss out on this three-part series!
PRICING INFORMATION:
Member price: $30
Non-member price: $60
Please note: Your one-time purchase includes ALL THREE workshops. You will receive a Zoom link in your confirmation email. Please use this Zoom link for each workshop.
Contact Jess Haley with any questions.
January 2nd
February 6th
March 5th
For More Information:
838 Granby Street
Norfolk, Virginia 23510
United States
757.466.1600